Back to list
Iceberg Benches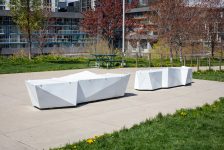 Douglas Coupland
b.1961
Iceberg Benches
Steel, resin and LED
2009
2 m x 0.5 m, 1.5 m x 0.5 m
95 Fort York Blvd, Toronto
About the artwork
Playful iceberg-shaped benches are lit from below with blue LED lighting, and gracefully float alongside the nearby Canoe.
About the artist
Douglas Coupland grew up in Vancouver and attended the Emily Carr University of Art and Design. Since graduating in the 1980s, Coupland has made a name for himself internationally as a writer, visual artist, and graphic designer, as well as being widely recognized as "one of the most original commentators on mass culture of the late 20th and the 21st century." Coupland has written thirteen novels that have been published in many different languages worldwide. He has written and performed for England's Royal Shakespeare Company and is a regular columnist for The Financial Times of London. He is also a frequent contributor to The New York Times, e-flux, DIS and Vice. In 2000, Coupland amplified his visual art production and has recently had two separate museum retrospectives: Everything is Anything is Anywhere is Everywhere at the Vancouver Art Gallery, The Royal Ontario Museum and the Museum of Contemporary Canadian Art, and Bit Rot at Rotterdam's Witte de With Center for Contemporary Art, and Munich's Villa Stücke. His practice employs a variety of materials and explores the corrupting and seductive dimensions of pop culture. In 2015 and 2016, Coupland was named artist-in-residence at the Paris Google Cultural Institute. In May 2018, his exhibition on ecology, Vortex, opened at the Vancouver Aquarium. Coupland boasts an impressive list of honours and awards. He is a member of the Royal Canadian Academy, an Officer of the Order of Canada, an Officer of the Order of British Columbia, a Chevalier de l'Ordre des Arts et des Lettres and a recipient of the Lieutenant Governor's Award for Literary Excellence.
Fun facts
During the pandemic, Coupland's art installations helped locals to reconnect with the park and its surroundings, creating a self-curated space between the concrete walls of the neighbourhood.
Engagement questions
If this artwork was untitled, what title would you give to it and why?
Do you think public art has to be functional? Is aesthetic playing an important role in this installation?